Still inspired by the geometric 3D jewellery trend? Got an hour to kill? Need inspiration? Chic Cheat can help…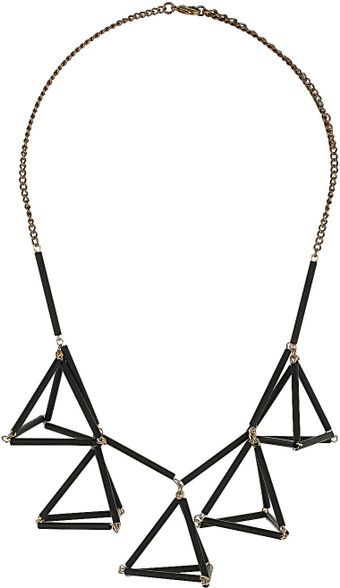 Topshop
Geo Triangle Collar Necklace
Source: Lyst.com
You will need…
Gold picture hanging wire (about £1.50 from Wilkinson)
About 5 black drinking straws (free at all participating restaurants)
Scissors
The string of an old necklace or pendant
Long nosed pliers
Ruler
For the method I used…
Polymer clay
Fimo gold powder (about £3 if you shop around)
Difficulty
Pretty easy
A little fiddly in places and picture hanging wire splits really easily, which can be a headache when you're trying to join pieces together.
Time
I'm going to say an hour each but, thanks to nearby distractions, I think I made heavier weather of it than I needed to. Also, I'd recommend a quicker, simpler method than the one I did (and learnt from) as I'll explain later on.
Wire it up…
For the first design, I made 3 flat wire triangles and a wire pyramid, joining the ends together by bending them back on themselves, hooking them together and locking them in place with a twist of the pliers. I'd then fold the hooked bit back on itself and cut away the excess wire. It's hard to explain in a step-by-step way how I made the pyramid. I made a triangular base, left some excess wire to make a point at the top and more still to twist along one side, so that I could get it into the final corner and create third side to reach the top. Each side was 3cm long.
I joined the pieces together by taking a small piece of wire and twisting it along the 2 adjacent sides.
Lastly, I threaded the necklace string through the top.
For the second necklace I made 5 pyramids. I covered them with polymer clay and then gold powder before baking them to set. Personally, to get the same finish as the Topshop necklace, I'd recommend cutting 35 bits of straw, 3cm in length, and putting them on your wire pyramid frames as you make them. After that, thread each pyramid onto your necklace string and alternate it with a 3cm straw "stopper." That method would be cheaper, quicker and easier than the one I used but the choice of look is yours.
I painted my pyramids with black nail polish, if you're wondering how I achieved the above effect.